23. [amazon title="BlueDevil Head Gasket Sealer (38386)" link="B000NOO798″]
Some brands are well known in the automotive space, and there are some brands that you might not know. BlueDevil is a brand that is generally kept in the back of the auto parts store. It works. And BlueDevil doesn't just work, it works very well. This magical blue solution will completely repair a blown head gasket if you use it correctly. The Amazon price is much cheaper then what you'd pay in the auto parts store as well.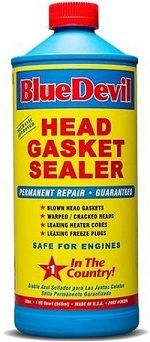 You simply drain your radiator with the garden hose, re-fill with water and leave room for 1.5 quarts. You'll run the heater at full blast and pour this in. Give your car time to cycle at operating temperature and then leave it overnight. The next day, just drain the radiator, pop your thermostat in, and add coolant. You'll be rolling again with no issues and you potentially saved thousands of dollars.
Buy it here: [amazon link="B000NOO798″] [amazon fields="B000NOO798″ value="price" format="linked"]