15: [amazon title="ATP AT-205 Re-Seal Stops Leaks, 8 Ounce Bottle" link="B000NVW1LM"]
ATP is a brand that you probably don't hear too much about. But the company makes a line of different patch fluids that you can use in your car. Ideally, the company focuses on transmission patches but there are also liquids that you can use on an engine as well. The ATP AT-205 Re-Seal Stops Leaks, 8 Ounce Bottle is a quick and easy to use formulation for head gasket leaks and a variety of other leaks. The setup is pretty easy, you just pour it into the designated reservoir.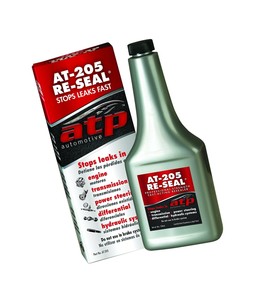 In addition to that the benefits of using this by itself, it can be mixed with most synthetic oils. This fluid will not overswell and blow the seals like a lot of sealants will. The main problem with a lot of these sealants is that the fluid will cause rubber seals to expand and get clogged. The AT-205 doesn't clog your seals and you'll get an even seal in your head gaskets.
Buy it here: [amazon link="B000NVW1LM"] [amazon fields="B000NVW1LM" value="price" format="linked"]