The thrill of owning a police pursuit vehicle is a prospect certain auto fans consider exciting. If you were unable to become a police officer, don't fret. There's a huge part of the car industry that specializes in rehabbing and recommissioning old police vehicles for civilian use. Like the military vehicles that head to auction every year, police vehicles are full of performance modifications. After all, have you ever wondered how a Ford Crown Victoria can keep up with a Porsche during a high-speed chase? Police vehicles are special, possessing many modifications that make them suitable for the daily demands thrown at them.
There seems to be a common misconception that to own a police vehicle you have to be in law enforcement. But this is not the case. State and city auctions are filled up with out-of-service vehicles that need a new home. Many of these vehicles were maintained and taken care of, but have a high amount of mileage. After a while, it becomes impossible for most government agencies to ensure these vehicles because of their shelf life. That means there is ample opportunity for civilians who want a stellar police vehicle that they can drive on the open road. Read on below as we take a look at 25 police vehicles that a civilian can own via Road and Track.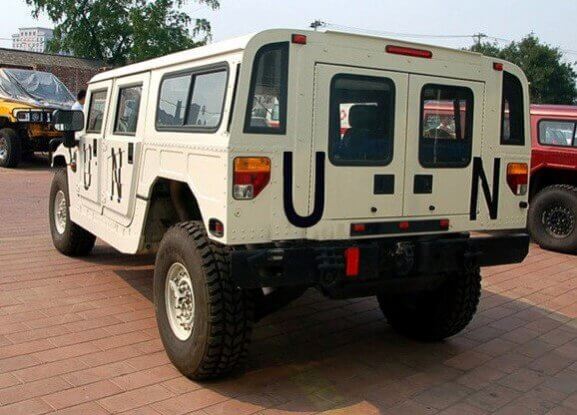 25. Armored Asian Hummer "Warrior"
The Hummer is one of the most iconic vehicles on the road today. If you want a superb off-road vehicle that can take you just about anywhere, a Hummer is going to be it. But what if you want a police issue Hummer to add a bit of flare? There happens to be a model that was designed for law enforcement and surprisingly you can get your hands on it. Take a look at the Armored Asian Hummer "Warrior." Of course, the first stand out feature is the flush-mounted headlights and custom grill. Both of which let onlookers know this is no ordinary Hummer H1.
The police package takes it a step further as you go inside the Warrior thanks to steel ballistic padding. This five-sided armoring helps to protect occupants against gunfire and explosions. The usual Hummer flare is still on the interior with a good amount of walking space in between the captain's chairs to help pick up stranded comrades. The frame of the Warrior has also been redone to incorporate ballistic grade steel, a far cry from the standard frame you get with the H1.